Lessons
We are dedicated to provide a fun learning environment for all our students.  We have 6 instructors who teach acoustic guitar, electric guitar, ukulele, bass guitar, vocals, piano, banjo, mandolin, lap steel, as well as full band rehearsals and performances.  Traverse City Guitar Company will also provide high quality studios to promote the best lessons and instructors in the area.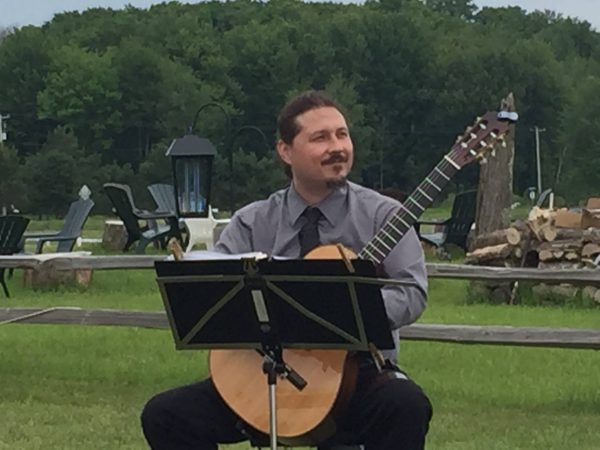 Matt Hathaway | guitar instructor
I am a Traverse City native and I love it here! Some of my favorite things other than playing guitar are family adventures, bonfires, rollerblading and hockey.
I have been playing guitar for 35 years and teaching for 20 years. I have been in countless bands beginning in middle school and continuing now. I also play wedding ceremonies, special events/house parties, local high school musical's and fundraisers. I have taught students through the NMC music program, the SEEDS music program, Woodland Charter schools, as well as private lessons.
I studied at the National Guitar Summer Workshop when I was a teenager completing their highest level. I received an Associate degree from Northwestern Michigan College. I also attended 2 years at the San Francisco Conservatory of Music focusing on performing classical guitar. I received my Bachelor of Music degree from Oakland University.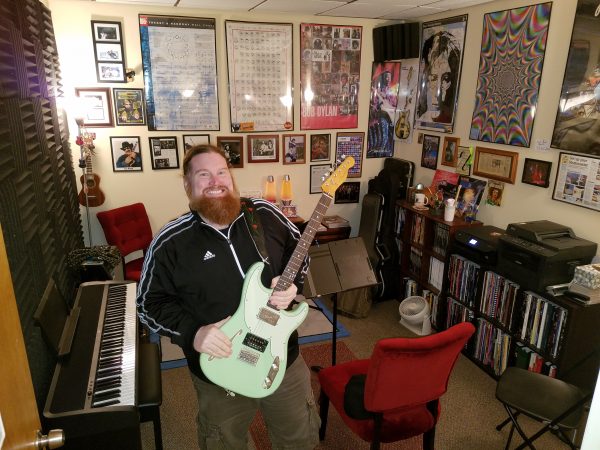 Zeke Clemons | acoustic, electric, bass, ukulele, harmonica, vocal, and beginning piano
Zeke has recently joined our team and we are so excited to have him. He teaches Acoustic, and Electric, Bass, Ukulele, Harmonica Vocal, Beginning Piano, Music Theory and Song Writing. Zeke has resided in the Traverse City area since 206 and has years of experience teaching and playing gigs. You can call him directly at 231-360-5114 or email him at zekeclemonsmusic@gmail.com.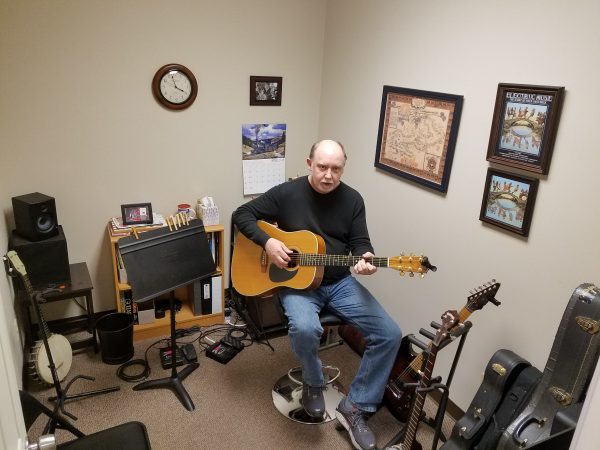 Mark Andersen | acoustic, electric, bass, banjo, mandolin, ukulele
Mark Andersen has been a music instructor in the Traverse City area for 40 years. He teaches a broad range of styles from Acoustic, Electric guitar, Bass guitar to Five string Banjo, Mandolin and Ukulele. His style repertoire includes: Finger style guitar, Alternate Tuning's, Folk, Bluegrass and Country guitar, Classic Rock, Pop & Blues, Scruggs and Clawhammer Banjo.
Mark welcomes students of all ages and levels of experience. His students have appeared on American Idol, performed at the Montreaux Jazz festival and received and the Critic's Choice Award at 2015 Art Prize.
Mark is currently playing guitar and Mandolin at New Hope community Church. You can contact him directly at: 231-941-8075 or email him at mackinacmark@yahoo.com
Angelo Meli | guitar instructor
Angelo Meli was born in Detroit and attended Michigan State University and The Berklee College of Music in Boston. His experience ranges from the folk club experience in Detroit, rock and roll in Boston, Latin band and studio work in Florida. In Michigan, he has performed with backup bands to the Drifters, The Coaster, The Platters and The Marvellettes. You can read more about him by clicking on the web link:http://www.facebook.com/pages/Northern-Express/51380552314
Angelo is a guitarist and songwriter. He has performed with a variety of groups including the blues band, The Corvairs, as well as The Neptune Quartet and Jazz North. He also has performed solo at Oryana. He is currently taking new students of any age or level of experience. You can contact him for lessons or gigs at: angelomeli@ymail.com
Ron Getz | guitar instructor
Ron Getz enjoys the reputation as a top-notch music educator for a number of reasons.  Ron knows when to act as teacher, coach, and mentor to his students.
His passion for leading others to discover the magic of music as self- expression is evident in the degrees to which his students excel musically.
Mike Youker | acoustic, electric, bass and ukulele  instructor
Mike Youker is a professional musician with 20+ years playing guitar and over 12 years teaching guitar and ukulele experience. Mike loves teaching beginning to advanced guitar and beginning ukulele to students of ages 6 and up! Starting with easy to grasp melodies, chords, rhythm concepts and songs to more advanced soloing and improvisation techniques.
Mike has experience playing lead guitar in Rock, Classic Rock, Funk, Blues, R&B, Contemporary Christian and Country/Americana bands.  Most notably with Strobelite Honey for five years in Northern Michigan (Funk, Blues, R&B), and the Drew Hale Band, touring for two years throughout Michigan, Ohio, Pittsburg and Nashville (Country/Americana). While on tour with The Drew Hale Band has shared stages with Frankie Ballard, Trace Adkins, William Michael Morgan, Trent Harmon, Drew Baldridge, The Railers, Walker McGuire, Chris Lane, The Cadillac Three, Bret Michaels, and many other top artists!